Commercial Waste Collection
County Waste and Recycling of Cairo provides commercial waste collection and recycling services to Mid-Hudson Valley businesses across our Service Area that includes Columbia County, Greene County and Ulster County.
2020 Week A - County Waste - Every Other Week Schedule
2020 Week B - County Waste - Every Other Week Schedule
No matter the size of your firm or the scope of your waste removal needs, it is our mission to provide quality and cost-effective garbage and recycling collection services to each and every one of our commercial customers.
Contact County Waste and Recycling at 518-877-7007 and let us help you arrange the most convenient and practical commercial waste and recycling services to meet your needs.
At County Waste and Recycling we offer:
A knowledgeable and professional account representative that is responsive to your waste removal needs

A live, informative, courteous and professionally trained customer service rep on the line when you call

A variety of ways to contact our Montgomery, NY garbage collection main office, including fax, e-mail, voicemail and website

Clean and distinguished commercial waste collection trucks, dumpsters, carts and recycling containers

Garbage and Recycling drivers and staff dedicated to customer satisfaction, top-notch service and safety

A variety of commercial waste collection container sizes for garbage and recycling, from 95-gallons to 10 yard

Commercial waste collection pickups scheduled as often or infrequently as needed
If you need commercial waste and recycling services for your business, call County Waste and Recycling of Cairo at 518-877-7007 or Request a Quote and we'll get back to you right away!
Garbage Dumpster Service

Meeting your waste removal needs is our primary goal, so County Waste and Recycling of Cairo maintains an inventory of roll off dumpsters in a wide variety of sizes. A County Waste and Recycling consultant will gladly discuss your commercial waste collection needs and recommend a dumpster or roll off container tailored to fit your situation.
Front End Loading – Box Style Sizes
| | Height | Wide | Deep |
| --- | --- | --- | --- |
| 2 Yard | 38-3/4" | 71-1/2" | 34-7/8" |
| 3 Yard | 50-1/2" | 71-1/2" | 41-1/8" |
| 4 Yard | 50-3/4" | 71-1/2" | 55-5/8" |
| 6 Yard | 63" | 71-1/2" | 68" |
| 8 Yard | 73-3/8" | 71-1/2" | 78" |
| 10 Yard | 79-3/4" | 71-1/2" | 88-7/8" |
Front End Loading – Slant Style Sizes


Front
Height
Back
Height
Wide
Deep
2 Yard
36-3/8"
45"
71-1/2"
34-7/8"
3 Yard
46-9/16
59-5/16"
71-1/2"
37-3/4"
4 Yard
50-3/4"
63-1/16"
71-1/2"
57"
6 Yard
50-1/2"


71-1/2"
70-3/4"
8 Yard
50-3/8"
63"
71-1/2"
80"

10 Yard
52-1/2"
90-5/16"
71-1/2"
88-7/8"
Dumpster Sizes [click to launch pdf]
Acceptable Materials:
Dumpsters work best for businesses with waste materials such as paper, food and miscellaneous garbage.
Unacceptable Materials:
County Waste and Recycling cannot accept the following materials in roll off dumpsters:
Asbestos

Batteries

Electronics

Hazardous waste, liquids, paints, oils

Medical waste

Tires

White goods containing CFC's (appliances)
---
Roll Off Containers
Business, commercial and industrial customers with bulky, non-compactible wastes such as paper, sawdust, wooden crates and many other materials are effectively serviced by roll off container systems.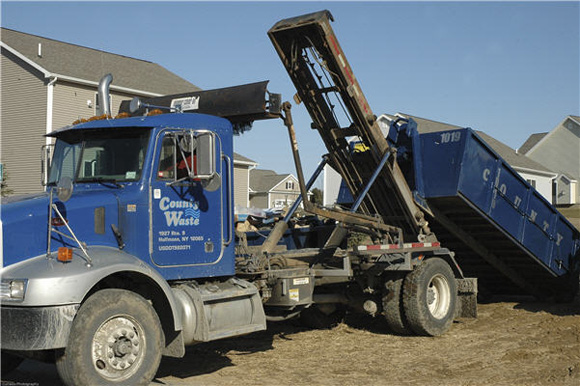 The high-capacity steel boxes used in this waste collection system can be hand-fed with large 7-foot rear doors that will accommodate fork lifts for depositing extremely bulky or heavy materials. Full roll off containers can be hauled and returned or replaced with an empty one by County Waste and Recycling of Cairo on a predetermined schedule or on an as needed basis.
Roll off container designs are available as open-top units, closed compaction units and skid-mounted tank or vacuum units. A variety of other heavy-duty services are also available for customers that generate large volumes of waste.
| | Height | Width | Overall Length |
| --- | --- | --- | --- |
| 10 yard | 3'-5" | 8' | 13' 1/2'" |
| 15 yard | 4'-2" | 8' | 15' 1/2" |
| 20 yard | 3'-5" | 8' | 22' 9-1/2" |
| 30 yard | 5'-2" | 8' | 22' 9-1/2" |
| 40 yard | 6'-10" | 8' | 22' 9-1/2" |
Container Sizes [click to launch pdf]
---
Acceptable / Unacceptable Items for Roll Off Containers
Cardboard
Carpet
Construction Debris
Furniture
General Appliances (Freon removed and stickered)
General Office Waste
Landscaping Debris (Minimum amount of dirt)
Metal
Shrink-Wrap
Wood
A/C Units (With Freon)
Batteries
Chemicals
Drums/Barrels
Electronics
Hazardous Waste
Liquids
Oils/Gasoline
Paint Cans (With liquid and/or lids attached)
Refrigerators (With Freon)
Tree Stumps
Whole Tires